Live Edge Entryway Tables
REFINE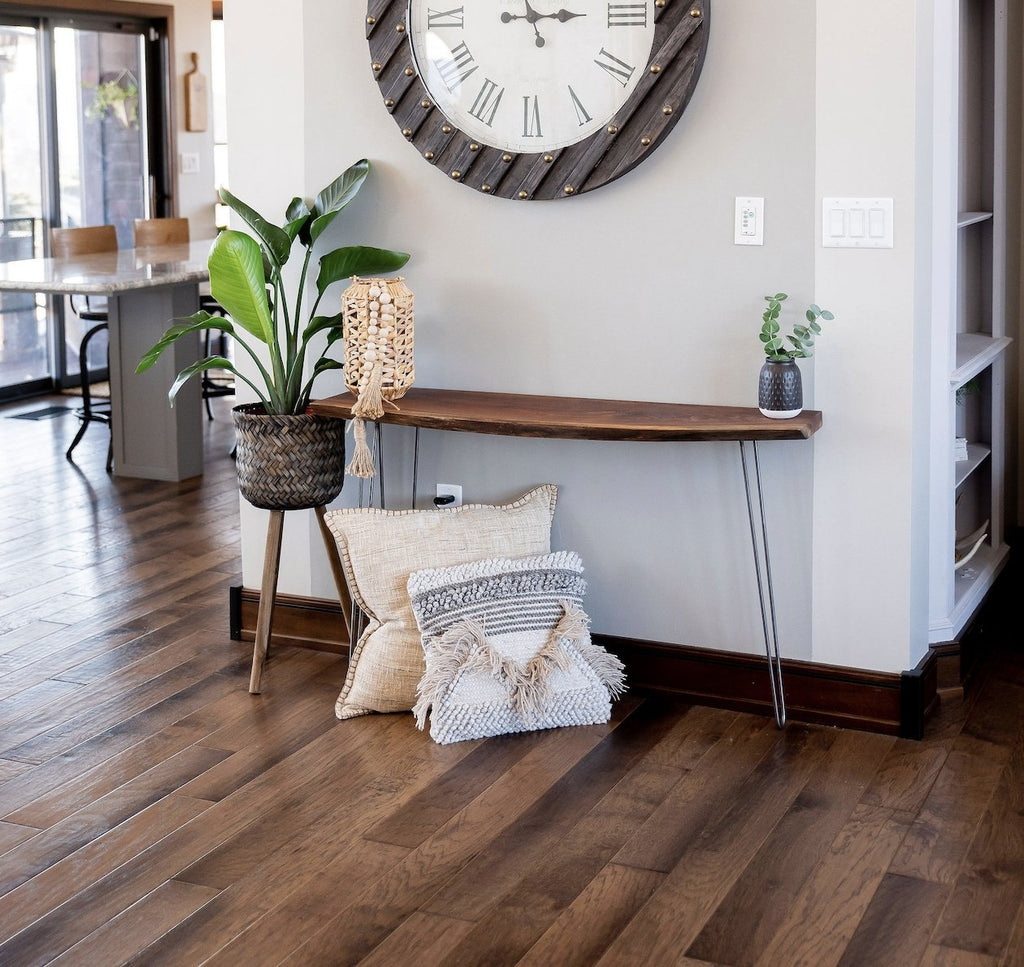 Live Edge Entryway Tables
Who is Brick Mill Co.?
Brill Mill Co. is a family-owned business located in Williamsport, PA, on a former 1800s lumber mill. Brick Mill Co. is passionate about creating handcrafted bespoke furniture that can be passed on from our family to yours for years to come. We sell custom live edge console tables, desks, coffee tables, and more, as well as craft wood furniture and solid wood tables.
What sets our products apart from others? We carefully oversee our products every step of the way, from the initial slab of unfinished wood all the way down to finishing your heirloom-quality product. As a family business, we create high-quality furniture that we would be proud to pass down from generation to generation.
Our Products
Our live edge console tables are the perfect choice for any home, office, or industrial setting. The following products are currently available in various sizes, with an option for custom sizes according to your needs and specifications.
Live Edge Console Table (Walnut)
Our meticulously handcrafted Live Edge Console Table in walnut is the perfect way to greet guests to your home. Whether using your console table as a hallway table, an entryway table, or a foyer table, you'll be creating a warm and welcoming atmosphere the minute your guests walk through your door.
Made from stunning slabs of locally sourced black walnut, you'll love the look of the dark grain that penetrates throughout our handcrafted wood. Use our live edge console tables as a place to store your keys, sunglasses, or any of other life's essential knick nacks before you leave the house again, or use it to display plants, photo frames, and candles.
Sizing:
Our live edge console tables stand approximately 30" tall, with a thickness of 1-1.5", and a  standard width of anywhere from 10-15" (depending on your own uniquely picked slab of walnut). While this particular item comes in lengths up to 96", we happy to provide custom orders. Please contact us to see if we can make your vision a reality!
Live Edge Console Table (Maple, Ash or Oak)
Our Live Edge Console Tables in maple, ash, or oak are the perfect modern yet rustic addition to your hallway, entryway, or foyer. There is no type of decor that this live edge console table does not compliment, making it the perfect addition to offices, industrial settings, and your warm and inviting home.
Handcrafted from scratch, we dry, sand, and seal your furniture ourselves, using only the most high-quality locally sourced materials and finishes. The dark metal legs of your live edge console table are a beautiful contrast to the light wood of your maple, ash, or oak table and are also locally sourced from Pennsylvania businesses.
Sizing:
Our 1-1.5" thick live edge console tables stand roughly 30" tall, with a standard width of 10-15". The exact dimensions of your live edge console table will be determined by your own individual wood slab of maple, ash, or oak. While this item comes in lengths up to 96", we happy to see if we can accommodate your custom order.
Caring For Your Live Edge Console Table
Our live edge console tables will never require the use of any harsh chemicals. With our finishes protecting your product for many years to come, we recommend only using a wet cloth to remove any spills or accumulation of dust. In the case of a particularly stubborn buildup that a wet cloth cannot remove, we recommend using natural soap.
In addition, keeping your home at a natural humidity level and temperature will help with the longevity of your live edge console table's life. Many years in the future, it is possible that you will need to renew the finish of your live edge console table.
In this case, we recommend a finishing solution called Renew, which can be applied by simply rubbing it into the table. No sanding or additional work will ever be required with your live edge furniture.
FAQ
What can Live Edge Console Tables be used for?
Because our console tables are only 10-15" wide, they are highly unobtrusive. This means that they are perfect for the narrowest spaces in your home, including entryways and hallways. Console tables are also the perfect way to create a little extra space in more commonly used areas and can be used as a media stand, a vanity, a desk, or even as a bar.
Can I choose the legs for my Live Edge Console Table?
Absolutely! We give you the option to select either hairpin legs or U-Shaped legs before checkout. Either option is made from the highest quality black metal and is a beautiful accompaniment to your live edge wood.
What is the quality of the wood and finish used in your Live Edge Console Tables?
Your Live Edge Console table will only be made of the highest grade, locally sourced lumber and slabs available. Our Live Edge products are finished with a low to 0% VOC plant-based finish, so you can feel confident that our products are safe for the entire family (including your furry friends!).  Our products are made right at our warehouse in Williamsport, Pennsylvania, with as much of our materials as possible being locally sourced.
How dry is the wood that you use in your products?
We vacuum dry much of our wood ourselves to around 6-8%, which depends on the needs of the particular slab.